By the grace of the Almighty May it be Allah or Ram I dedicate this site to u NAZ.....
Naz this is a dedication for you. Aap ko flowers pasand hai na?? Usiliye yeh aap ke liye ek chota sa gift hai humare taraf se.In this site u will always find what I feel for u and the latest about me. Whereever I go whatever I will do I will write about my feelings here and you will know about it. Aap hamesha khush rahen yeh humari dua hai Rab se. Is janam mein na sahi to agle janam me sahi.........
Remember Naz yeh sirf aap ka aur humara personal page hai. Is mein sirf aap ke aur humare feelings raehenge.
ENEMITY V/S LOVE
LOVE DOESN'T SEE ANY CASTE CREED OR RELIGION.....LOVE IS A FEELING ..A SINCERE EMOTION DEEP INSIDE THE HEART.....LOVE CAN HAPPEN ANYTIME WITH ANYONE......LOVE DOESN'T CARE ABOUT ANY ENEMITY.....IT IS JUST LIKE AN INNOCENT BABY..UNWARE OF EVERYTHING.......
LOVE JUST HAPPENS............
( PYAR TO BAS HO JAATA HAI......)
" Yeh ishq nehi Aasaan bus itna samajh lijiye ik aag ka dariya hai aur bas doob ke jaana hai "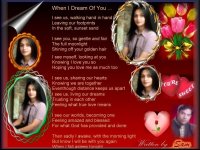 My Dream About Naz Click to see
Koi chahe kuch bhi kahe ya soche Naz nafratoon is duniya ke beech hum aap ko hamesha yaad rakhenge aur aap hamesha humare dil mein rahenge......no matter what happens.....Sam....